When you first create a Fiverr account, you don't pay much attention to what goes into your Fiverr description, which is a big mistake since buyers do read them before placing an order.
However, obsessing on it isn't ideal either since it's not the make and break of your account. At the very least, write a Fiverr profile description that's coherent, descriptive and grammatically correct.
In this post, I'll take you through a few tips to enable you to rewrite your description to better reflect your skills and speak the language of your ideal customer while economizing on words. You only have 600 characters for this section, so you need to use them carefully.
Free Fiverr Class
New to making money on Fiverr? You can access this 2 hour Fiverr Freelancing Class for free for 30 days using our link. In this class, you'll learn:
Fiverr SEO
Pricing your gigs
Creating a killer Profile
Creating your first gig
Managing your first order
The good thing about using Skillshare to learn to freelance is that you get access to all the courses for a single membership fee. If you use my link you'll have access to 12000 plus classes for free for 30 days (instead of 7 days). Simply search for Fiverr, to access other short classes that share tips and tricks on how to 'hack' Fiverr.
Tips for Writing Better Fiverr Description
When you think about your Fiverr description, imagine it as your 5 seconds elevator pitch line that should inform potential Fiverr buyers that:
You're good at what you do
You are a professional
You care about their business
This is why your Fiverr description matters. It gives a glimpse to your buyers about who you are as a person and how you do business.
How you word your profile description copy can either ascertain all the above or portray a completely different message. Depending on the service you provide, you might get away with a not-so-stellar profile copy.
There are a few grammatical errors in the profile description above, but since the seller is a WordPress designer, his clients are more akin to his portfolio works than perfect grammar.
For some categories, though, you won't be so lucky. (e.g., Content writing with grammatically incorrect profile copy.)
To help you with your description copy, here are critical tips to follow:
1) Understanding Fiverr Buyers
Buyers on Fiverr are pretty diverse, coming from different cultural backgrounds, with different literacy levels, and they mean business. The reason why people come to Fiverr is that they don't have the time or expertise to do the tasks themselves.
With this in mind, you want to ensure that you:
Use simple words when describing what you do so that anyone who comes to your profile won't have to look up words… No one does that anyway; they will just move on to another profile until they find one that is easy to understand.
Get to the point, quickly: Fiverr description isn't a place to rumble on. Help your prospects decide quickly if you are the right guy or girl for the job or not.
However, simple doesn't have to be simplistic.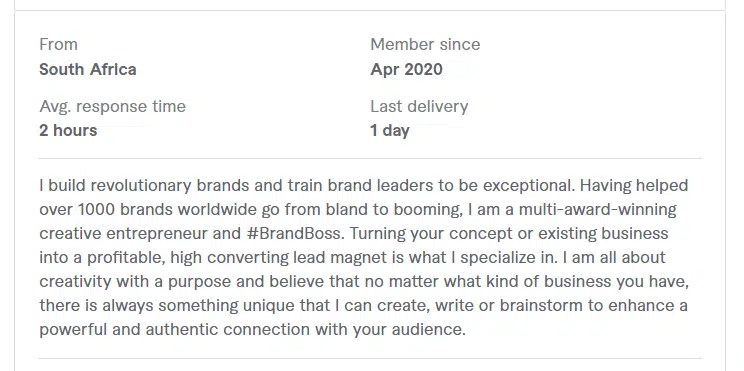 In the example above, the seller chooses the words she uses carefully, as she knows the clientele she wants to appeal to. Her clientele understands what having a great brand can do to their business, and telling the brand story in a way that resonates with their customers is critical. That's why in her copy, there are intentionally placed phrases and words such as:
From bland to booming
Having helped 1000 brands worldwide(Versatile, flexible, and experienced)
Multi-award winning (Adds credibility)
Authentic connection
These are things that her prospective customers care about. So when a right prospect lands on her profile and reads this description, they immediately connect since she is speaking their language.
This tip and, frankly, every other tip on this post is something you should apply whenever you are trying to 'sell yourself,' whether writing your author bio, about-me page or LinkedIn profile description.
2) Show a bit of Personality
This is optional, but if you can word your Fiverr account description the same way you write a LinkedIn description, then you will grab the attention of Fiverr buys. To do this, you can capitalize on your first liners, for instance:
Hey there! I'm Marceline, your next content writer, from this day forward…
Who said your website needs to look like your competitors? As your next WordPress developer, you and I are about to change the game…
Hey, I design websites for a living…That's what I do.
You can play around with different intros until you find one that works for you. The key is to economize on words without sounding that you are.
Fiverr Description Example: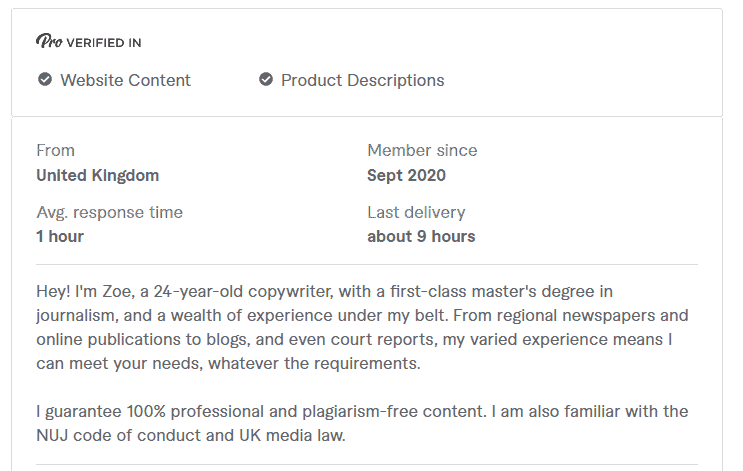 In the description above, Zoe tells the seller that even though she is only 24 years old, she is a hard worker without stating this explicitly… Someone at this age with a first-class master's degree has to be a hard worker. She isn't afraid of making bold claims either because she knows she can deliver.
3) Backup Your Claim
In your introduction line, you stated what you do, i.e., best content writer, the go-to graphic designer, efficient web developer etc. So the next question you need to answer is: What makes you the go-to choice?
Look at the description below: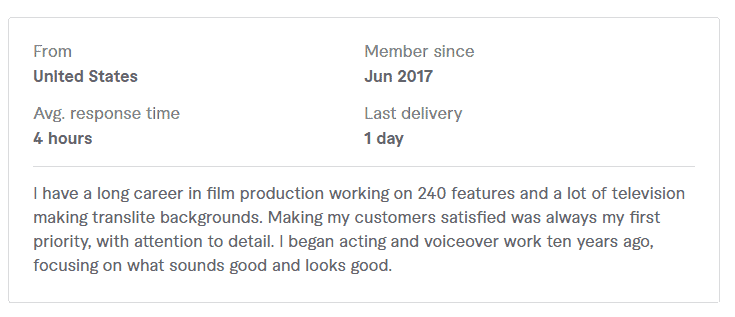 This seller uses his profile to set himself apart by stating his experience in the film production industry. 10 years' experience with 240 features is something that would impress any potential client.
4) Subtle Name dropping Can Nudge Prospects off the
If you've worked with big clients in the industry, you can name-drop them in the profile section. Since Fiverr now allows sellers to add logos of their past clients, this tip can have an even greater impact.
In the example below, the seller backs up her claim of being the best copywriter by stating that she's worked for big brands such as Nike and Under Armour.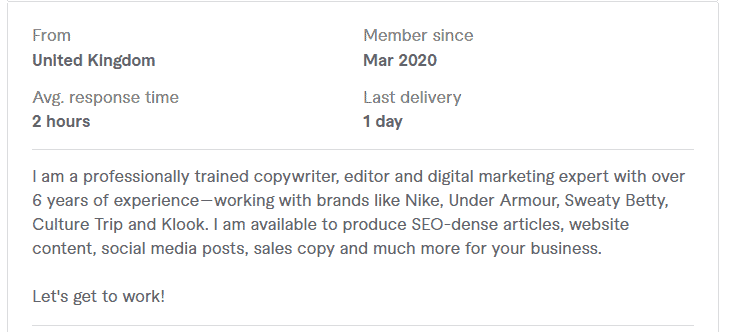 Name dropping only works if the clients are relevant to the current service you are promoting. If you worked with a client writing copy for them in the past, and now you are using Fiverr for graphic design services, then the client might not be suitable for the mention in your gig description.
If you don't have popular past clients, your description can do without some. It doesn't help to say you've worked with some clients when you haven't.
Besides this being a lie, clients will be having high-quality expectations, and if you don't meet them, you end up with 3 or 4 star okay reviews. On Fiverr, anything but a 5-star review is a bad review.
5) Make it Crisp
A good Fiverr description is precise…No meandering. Anything you write should have a flow and clarity. This means being intentional about the words you use and even the sentence structure. You have 600 characters to tell your compelling full story, don't mess it up.
Wrapping Up
Writing catchy profile descriptions is essential for landing clients on Fiverr. I hope with these few tips, you'll be able to rework on yours and update your Fiverr profile.