As an online freelancer, you spend the majority of your time with administrative tasks such as pitching clients, creating proposals, sending contracts, and invoicing clients amongst other tasks.
Without a proper way to streamline these vital tasks, you can become easily unproductive and unorganized, letting vital business opportunities slip through your email inbox.
Luckily, with a tool like Fiverr Workspace (Formerly And.co), you can become better at managing your freelance business.
In this detailed Fiverr Workspace review, I'll take you through the various features that make this platform quite a formidable ally to every freelancer.
What Is Fiverr Workspace?
Fiverr Workspace is an all-in-one suite of tools for managing a freelance business or any contracting job. It's tailored for freelancers and small businesses.
With Fiverr Workspace, you can manage your clients' and prospects' contact info, manage and track the progress of your projects, create and send proposals and contracts, send invoices that your clients can fulfill with one click, and have a detailed overview of your finances.
Whether you are an independent freelancer, a startup, or an established business, Fiverr Workspace is designed to provide you with an array of options to suit your needs.
With its easy-to-use interface and intuitive features, Fiverr Workspace is the perfect choice for freelancers who want to get their work done quickly and efficiently.
It's the best alternative to allow like Bonsai.
Open a free Fiverr Workspace account
Fiverr Workspace Pros and Cons
Fiverr Workspace Pros
It makes it easier to manage your projects in one place and have a quick overview of things such as contracts, proposals, tasks, and proposals related to a project.
You'll appreciate the integration with several payment providers, such as PayPal.
It Integrates with Fiverr, helping you import your earnings from your Fiverr account into your workspace.
With a Pro account, you can customize most of the tools and templates for your business branding needs.
Helps you connect to 1000+ apps via Zapier Integrations, including PayPal, Google Sheets, Slack, Shopify, etc.
Ability to offer subscriptions to your clients.
Fiverr Workspace Cons:
You can only work for one client at a time if you're using the free plan
There is no way to save the essential parts of a proposal with the free plan
Limited design and formatting choices when using the free plan
Fiverr Workspace Review — Features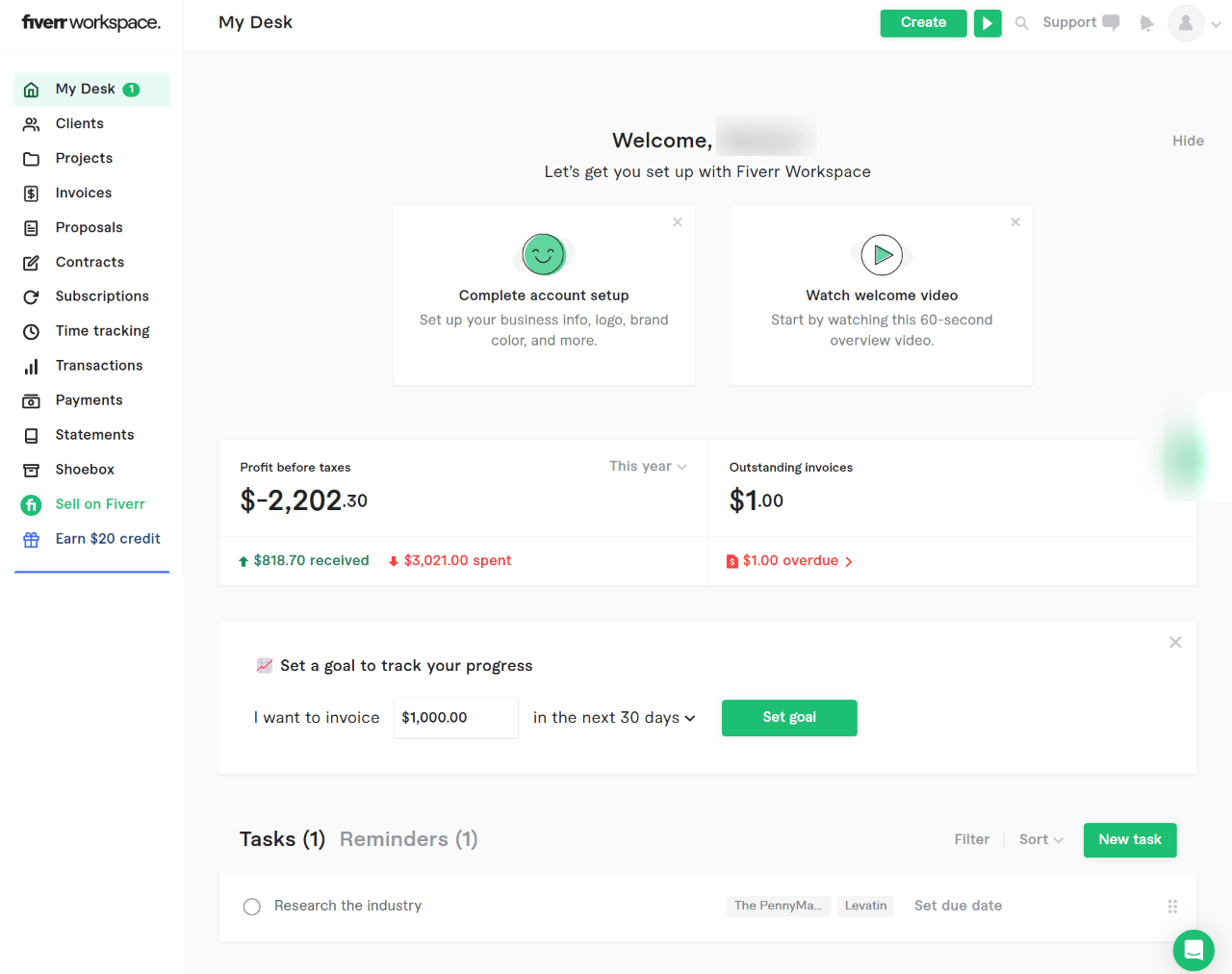 Fiverr Workspace has incredible features that make this tool a real companion for any contracted online worker.
Let's discuss some of them in detail below:
1) Invoicing Tools
To get paid for your freelance projects (before or after the project is completed), you need to invoice your clients.
While payment processors like PayPal have their own invoicing tools, having a better way of managing invoices (Fiverr Workspace Invoicing Tools) helps you to stay organized and helps for future reference since you can link an invoice to a project within your workspace.
Other features you will love about the invoicing tools that the Fiverr Workspace has to offer, include:
Invoice management: You can send invoices to your clients with one click, and even automate reminders. The system notifies you when an invoice is paid or is viewed so that you can initiate the next steps in your freelance processes.
Create Invoices in seconds: Fiverr Workspace simplifies the process of invoice creation by allowing you to generate invoices based on your existing contracts and proposals.
Online Payments: With Fiverr Workspace, you can accept payments directly from the invoices you sent. Your clients can fulfill the invoices directly via ACH Transfers, and Credit Cards. You will need to connect Stripe for this. This is a feature that is turned on by default, but this is something you'd need to double-check by navigating to invoice settings from the Invoice creation page.
Invoice Scheduling: You can schedule your invoice to go out on a given date, or use this feature to create recurring invoices. You need to turn on this feature when creating an invoice.
For a one-time invoice, choose Once, and set the date. For a recurring invoice, you can choose these options: Daily, Weekly, Biweekly, Monthly, Quarterly, Yearly, or even choose Specific Dates.
Payment Reminders: To ensure that you are on track, Fiverr Workspace notifies you when you need to send a new invoice, or when an invoice is due and prompts you to resend.
The invoicing tools on Fiverr Workspace also natively integrate with other features such as time tracking to help you have completely filled invoices auto-generated for you.
Other cool features that you will like to include:
Ability to auto-generate invoices based on milestones
Invoice branding (Add your logos and change theme colors to match your branding)
Ability to add discounts to your invoices
Allows for taxation items
Supports different currencies at an invoice level
Ability to choose an invoice language
Your clients can attach files when fulfilling an invoice.
2) Fiver Workspace Time-tracking Tools
Another cool feature that comes with Fiverr Workspace is time-tracking capabilities.
When working online, you are often required to track your progress or work hours using a tool like RescueTime or Time Doctor for jobs that pay per hour. If you've been working with a freelance platform like Upwork, then you should be familiar with a similar app.
Now, while the Fiverr Workspace time tracking tool isn't as quite advanced as a third-party tool like Time Doctor, it still offers quite a number of features that makes working online less stressful.
Here are some things you can accomplish with this feature:
Time tracking reminders: You can set the times when you need to be reminded to set time tracking. Maybe 10 minutes before your official work hours. You can also set a reminder for stopping time tracking if you always find yourself forgetting to stop the tracking after the designated time lapses.
Week view: The week view shows you an overview of how you worked during the week, clearly indicating the activities on where you spent you majority of your time on.
The Reports View: This view shows you the number of hours you worked, which projects you spent the time on, and the percentage of those projects that are already invoiced. You can filter results based on the date range, clients, projects, activity, or invoice status.
Invoice Automation: After creating time tracking, and assigning a project and an activity, you can enable automated invoices based on the number of hours tracked on a project.
Simply create an invoice based on an existing project, select your client, and under the services, add a new service and change the pay rate from a flat fee to per hour. Once you do that, a checkbox that says 'Bill using time tracking' appears. Check it, and set your hourly rate. You can also choose to cap the number of hours that a client can be invoiced for each time.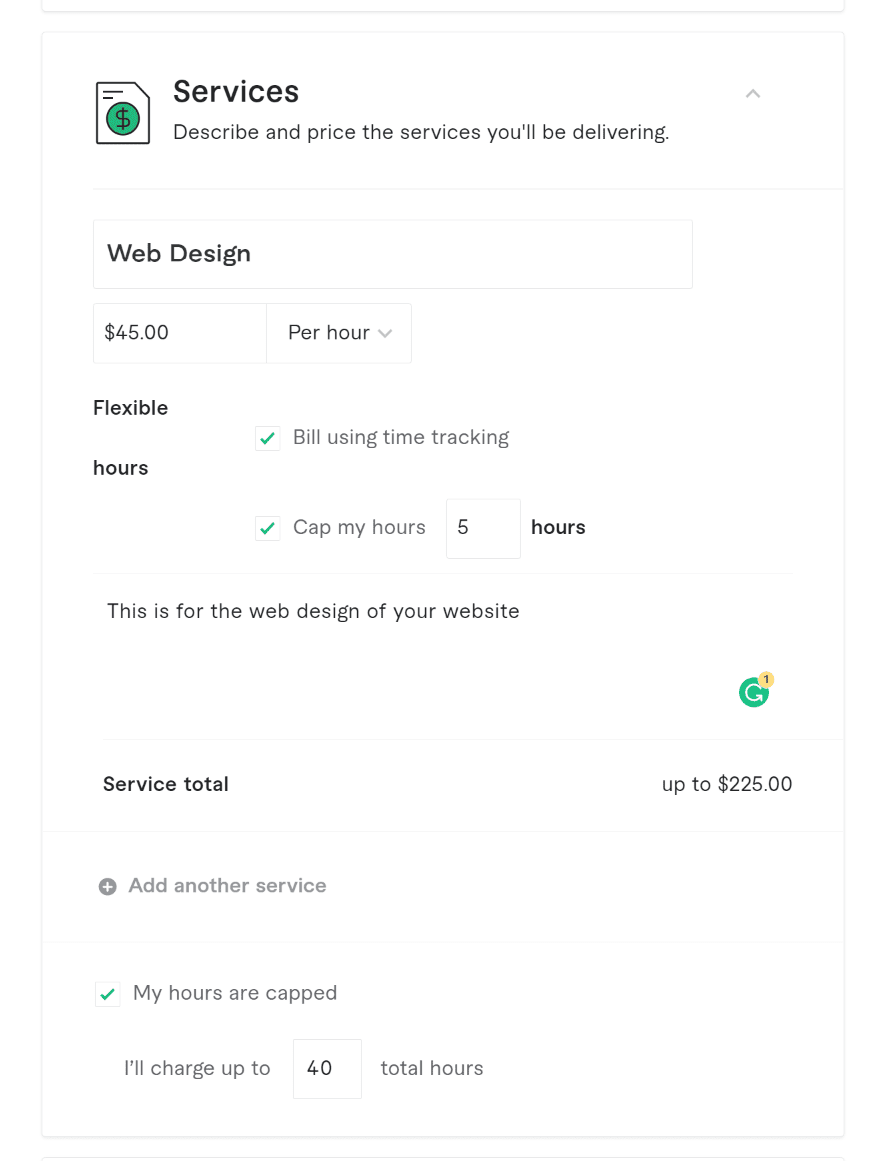 If you have agreed on the total number of work hours for the project, you can check the box that says My hours are capped and set the number of hours agreed on so that your client doesn't continue being invoiced after you've delivered all the work hours, and you forget to set off the timer.
3) Project management
Of the key benefit of using a platform like Fiverr Workspace or Bonsai to run your freelance business is access to project management tools and workflows that make you a more efficient and creative worker.
With the Workspace, you can create a project to help you manage a client's assignment. You can add everything you need so as to access them from one point.
Within the specific client's project, you can:
Add terms such as services and charges, start and end date, deposit required, etc.
Create and manage tasks. The tasks appear on the dashboard in order of priority. So, you know what needs your attention first.
Create and manage time-tracking activities
Create and manage proposals
Create and manage digital contracts
Manage project files
Manage transactions such as Income and Expenses
You can also add Notes to your projects, making it a truly complete project management tool for freelancers.
4) Proposal Builder
Crafting the perfect proposal is vital for closing a freelancing deal, and this is another area where Fiverr Workspace shines.
With a few clicks, you can effortlessly create compelling and beautiful proposals that pique the interest of your clients.
Here are some stunning capabilities that make Fiverr Workspace proposals quite effective:
Branded Proposals: The Workspace tool, with the pro plan, allows you to brand your proposals by uploading your own logo, using custom brand colors, as well as adding more sections as you see fit.
Intuitive proposal builder: The interface is pretty much intuitive, and the tool prepopulates the section based on the connected information such as the attached client, connected contract, etc. You can easily add new sections that allow you to tailor your proposal to the specific needs of your prospects.
Other proposal fees you'll love include:
Ability to sign and approve the proposals online
Automatic invoice generation based on the terms of your proposals.
Automatic reminders to clients with open proposals
Including file attachments in your proposals.
Ability to include contracts and invoices to your proposal with just one click
Smart alerts for when a proposal is viewed, signed, approved, etc.
The customized proposal tool also lets you collect deposits or installments at signing. Alternatively, you could create an invoice after signing to ensure you receive your payment before you start working.
5) Online Contracts tools
Fiverr Workspace offers a seamless way to draw up legal contracts that are compliant with the Freelancers Union to make managing your freelance business.
You don't need to use a separate service or purchase contract templates, as you can use the templates offered by the platform.
Here are some of the great features that you'd love about the contracting tools that Fiverr Workspace offers:
eSigning: Once you've reached an agreement, you can send custom contract documents to your clients for esigning. This way, you can begin working on a freelance project immediately. Printing, signing, scanning, and then sending contracts isn't a convenient way of managing a freelance business
Ability to customize contract documents: Fiverr Workspace allows you to turn some optional features on and off. For instance, you can choose to attach notes, turn some clauses on or off, etc. This way you can tailor each contract to the needs of your clients.
Invoice Automation: Whenever you create a new contract, you can opt to have an invoice auto-generated based on the terms outlined in the contract for you to review. All you have to do is to approve it, and it would be sent to your client.
6) Advanced Reporting
To grow your freelance business, you need data-based insights, and this is the advantage of housing all of your business details and workflows on one platform, as it makes consolidating information, and hence detailed analysis easier.
Fiverr workspace's advanced reporting allows you to dive deep into your freelance businesses with compelling, easy-to-use reports that show you the origin of your cash and how you spend it.
The provided visual stats allow you to track the performance of your freelance career over time.
You also get vital business statements that you can extract anytime for different use cases. These can come in handy when filing your tax. These statements include Income statements, Expense Reports, and Tax Reports.
7) Income and Expense tracking
Fiverr Workspace empower you to keep track of your income and expenses so that you can make informed financial decisions for your business.
Income tracking
You can add Income sources to individual projects, or directly to your Statements dashboard.
The Income entry has fields for defining the income source, tax category, use case, and even attaching receipts or related files.
Expense tracking
By tracking your expenses using Fiverr Workspace, you make it easy to deduct them from your taxable income.
By default, Tax deductible is set when you create a new expense. However, you can opt to bill the client instead, by choosing the Billable to client option.
With tools and features like Shoebox, you can easily turn your receipts and invoices from the email into financial statements inside your Workspace. (More on this later).
Tracking business expenses is critical for keeping a healthy cash flow. It also helps you qualify for tax deductions that may decrease your taxable income.
8) Shoebox (Manage Receipts, Documents, and Files)
Even with the easiest of user interfaces, manually entering the data into the Statements section within Fiverr Workspace can be a tedious process. Luckily, with the Shoebox feature, you don't have to.
Whenever you receive a receipt in your email inbox, all you have to do is to forward the email to a dedicated email address (
), and the workspace will process this automatically and store them inside the Shoebox section. This is a Pro-only feature.
From here, you can decide what action to take:
Create Expense
Create Income
Attach to Expense
Attach to Project
Rename File/Add Label
Delete file.
Select from
One thing to note is that you can only send emails from the address that is associated with your Fiverr Workspace account. So if you have files from other inboxes, you'd need to first forward them to the linked email address, and from there then you can send it to the Shoebox.
You can also label documents so that you can easily find them later. The labels are more of categorizations (Document, Expense, income, Image, Invoice, Contract, Proposal, Letter, SoW, Receipt, Other.) Often, Fiverr Workspace picks the right type based on the contents of the file, but always counter-check.
What you'll perhaps love the most about Workspace Shoebox is the ability to view the files directly with Ajax loading, without having to first download, and open with a file viewer.
9) Subscriptions (Recurring Payments)
You can now offer subscriptions to your clients, eliminating the need to always send a new invoice at the beginning of each billing cycle.
For this feature to work, you need to connect your Stripe account as PayPal is not currently supported.
To start using Subscriptions, navigate to the Subscriptions tab from the left sidebar, and on the next page, click on Create Subscription. If you aren't Integrated with Stripe, you will be prompted to do so. Once connected, you can follow the next steps:
Choose a client or create a new one
Define the terms of the subscription
You will then need to send the subscription proposal to your client for them to view and authorize. Upon authorization, the subscription begins based on the terms defined.
Managing subscriptions
Like all other features, you have options to send subscription reminders to clients whose approvals are still pending, cancel the subscription, view payments received via the payments tab, or even add personal notes for future reference.
Fiverr Workspace Pricing
In this Fiverr Workspace review we've defined that it's a great tool to have, but what about the pricing?
Fiverr Workspace provides two options:
Free Plan: This plan only allows you to manage one client, and you cannot customize or brand the platform or templates to match your branding.
Unlimited plan: This gives you access to all the features, and you can manage unlimited clients, projects, proposals, templates, subscriptions, and contracts.
Ready to get started?
Fiverr Workspace Alternatives
If you are looking for a more advanced freelance billing and management software, you can try these Fiverr Workspace alternatives:
Is Fiverr Workspace Worth it?
Yes, Fiverr Workspace is worth it. Having such a suite of tools can make managing your freelance business a lot easier, freeing you time to do the actual freelance work.
You can now:
Get paid stress-free,
Tracks your expenses, h
Create and sign contracts online
Build beautiful proposals
Enable auto-recurring payments
Generate invoices with just one click
Have a detailed overview of your projects and freelance business in general.
I hope that this detailed Fiverr Workspace review has given you a thorough understanding of the various features that make this platform quite a formidable ally to every freelancer.